For both enthusiasts and casual hobbyists alike, the amount of remote control tanks on the market today can feel overwhelming. So what exactly makes the best RC tanks? From quality of parts to varying levels of realism, there's so many factors to take into account when evaluating these little machines.
Let's take a look at five of the most popular and fascinating models available. After reading these rc tank reviews you'll have a better understanding so you can make the best, most well-informed decision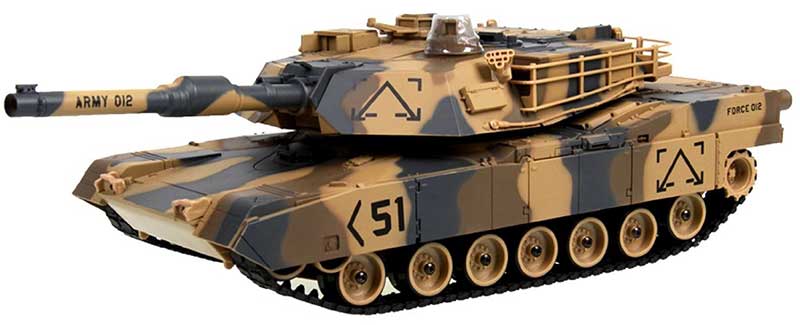 Check Latest Price on Amazon.com
This RC tank is a realistic model of the principal battle tank of the US military. Equipped with both front and rear lights, it's perfect for night missions. Although its engine and cannon sound effects limit its capacity for stealth.
One of the most exciting features, of course, is the tank gun, which fires 6mm BB bullets and holds up to 50 rounds at a time. Despite its specified 9 foot range, this tank's gun can actually fire BB's up to 15-20 feet with above average accuracy. The turret is also able to rotate 300 degrees and turn both up and down approximately 20 degrees.
Mobility is the next thing to take into consideration. The M1A2 boasts a variety of speed settings and can climb up 30 degree surfaces with little trouble.
In contrast to all these features, there are but a few common issues with this model. The most common issue users have experienced comes in the form of mobility problems.
Some users have reported issues with the tank's treads slipping off after extensive off-roading. This is an infrequent problem and can be fixed quickly.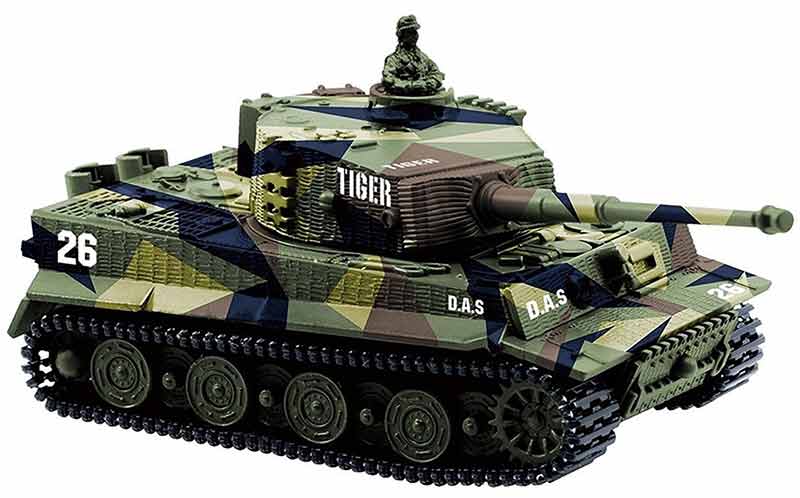 Check Latest Price on Amazon.com
For those looking to play the bad guys in a WWII scenario, this to-scale model of the classic German heavy tank is just the thing.
​This RC tank is scaled down at a ratio of 1:72 (4 inches long), and the manufacturer's attention to detail is evident at first sight. From its paint job to the treads on its tracks, every part of this tank is lovingly re-created.
​Additionally, although it weighs in at only about 60g (or a little over 2 ounces), the construction feels solid and holds up during aggressive play.
​Next, it comes with an exciting feature which sets it apart from others. This tank features a 4-channel remote, allowing up to four people to play with it simultaneously.
​Although the turret does not fire actual ammunition, it is equipped with firing sound effects and a full 360-degree rotation.
​When it comes to mobility, the only complaint is that it almost goes too fast. Not only is it fast, but also agile, which, needless to say, is hardly a problem for many enthusiasts.
Smaller and more mobile than many of its counterparts, this Tiger I model is a must-have for WWII buffs if shooting up enemy tanks with BB's is not a priority.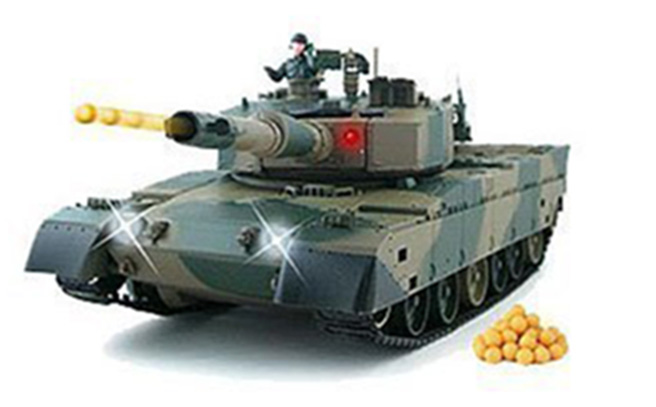 Check Latest Price on Amazon.com
​Another modern tank model, this RC tank is a re-creation of the main battle tank of the Japan Ground Self-Defense Force. Scaled down at a 1:24 ratio, this tank is a sizeable 18", 3.5lb. model.
Construction is solid, and the tank can easily hold up in battles lasting the full 60 minutes of battery power with which it is equipped. Mobility is a breeze, as well, with high-grip caterpillar tracks that allow play to take place on just about any terrain.
​The Type 90 also comes with 2 speed settings, and is particularly agile for its size and heft. Undeniably the most impressive feature of this Japanese tank is its turret.
​Even though it's turret is limited to only turning to it sides, it can launch its 6mm rounds up to whopping 50 feet! This impressive range alone makes this tank a tremendous contender among the best RC tanks on the market.
In combination with its expert craftsmanship and its maneuverability, this model is simply a great machine all around.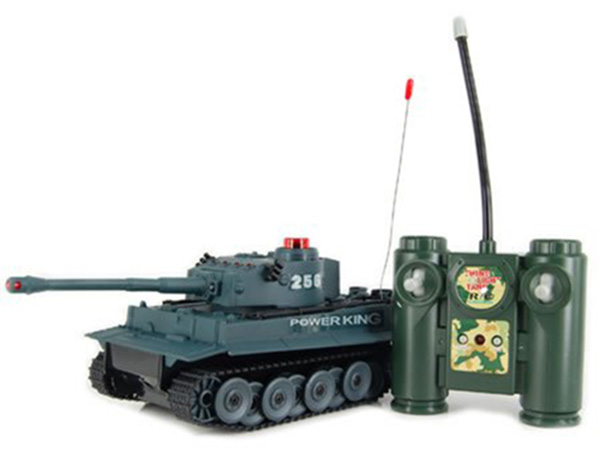 Check Latest Price on Amazon.com
​Differing from the other tanks included on this list, this package includes a pair of tanks. Neither is marketed as a perfect scaled-down model of a famous tank. Although the pack includes an Abrams and a Tiger, historical realism is not the selling point here.
​What does qualify this set to be included in the discussion of the best RC tanks? It's the fact that they are specifically designed to be toys rather than historical models and they do it extremely well.
​Rather than firing BB bullets, these tanks fire infrared lasers. Resulting in essentially a laser tag game to be played with friends using tanks rather than guns.
​Although these tanks do not need to withstand physical bullets, they are very well put-together. They also include a full array of realistic sounds, from engines to cannon fire.
​In contrast with models dedicated to realism, these tanks do suffer from a marginal lack of mobility. They struggling at times to perform on uneven terrain, for example.
But for people who are less interested in historical re-creations and more interested in lively game play, this tank set is perfect. They can be played by adults with children, children alone, or even between adults!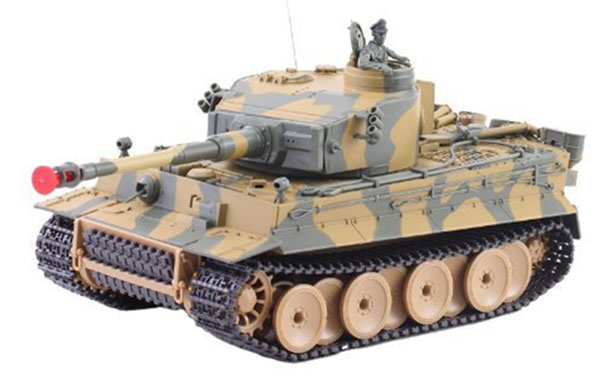 Check Latest Price on Amazon.com
The second Tiger I tank included here is of a much different breed than its counterpart which was covered earlier. This tank is much larger, as it is a 1:24 replica, measuring in at a huge 21" and 6 pounds.
​Like others in its class, this Tiger fires 6mm BB bullets, and can hold up to 20 rounds in its metal cannon. Its turret can also rotate 300 degrees, which is, of course, a few degrees short of a full range of motion. But it stays true to the specifications of the real-life Tiger I.
​The tank comes equipped with not just 2 speeds, but a multiple speed control. And also produces realistic engine and cannon sounds throughout its maneuvering. On the topic of mobility, the Tiger I is a rugged machine, capable of traversing rough terrain on its caterpillar treads.
​Unfortunately, it shares a slight issue with some of its competitors. In that rough or careless driving can cause the treads to come off their tracks.
This is a minor issue which can easily be repaired by even the least tech-savvy hobbyists. In my opinion it does not detract from the well-constructed and faithful model of the famous Tiger I.
​Final Word
​So there you have it. Whatever your interest in RC tanks, there is a model just for you. Whether you're an avid WWII or modern warfare fanatic or you're just looking for a way to have some fun with your friends or kids. Consider this guide your one-stop checklist of the very best RC tanks for your needs.
​Just like anything else, it pays to have all the information you can when making a new rc gear purchase. Now you can feel confident that you're getting the perfect RC tank for you. Remember to always be safe and, above all, have fun!​