Hoarding a monumental amount of dynamism whilst simultaneously acting as virtually destruction-proof; the ARRMA Kraton 6S BLX is a force that every RC Company should beware of. It is a good choice for those who want non-stop adrenaline pumping without the complication of malfunctioning risks.
Most bashing enthusiasts, like ourselves, were in desperate search of a truck that gives us the greatest bang for our buck. Especially, when it comes to durability, acceleration, and immortal features. Hence, in honor of the big truck R/C Culture, ARRMA has brought into the vehicular industry a monstrous automation device. One that travels at ridiculous speeds over unimaginable terrains. Not only does this 1/8 beast capsize in its physical prowess, but it also comes loaded with an incomparable power boost; all due to a brushless motor and 6S LiPo capability.
In their attempt to enhance its functionality and agility, numerous revamped enhancements have been made to this model as compared to older version and competitors; adding on to the amped-up suspension, it now also includes adjustable, oil filled shocks that use a 4mm shaft, the chassis was also restructured to become a recipient of a stiffer servo mount, front and rear chassis braces, bulkheads and so much more that you will discover as you read on!
Full steel gears in all three diffs.
Fully waterproof electronics
6S reaches speeds over 60 mph.
Wide stance for superior stability.
Tires provide excellent traction.
Shorter wheelbase accommodates tricks.
Easy availability for replacement parts.
Super-tough, updated, composite chassis brace.
Some tools and accessories included. e.g. spares, XT-90 batter connectors etc.
Strong front and rear braces and bulkheads.
Tactic TTX300 Transmitter provides enhanced control, range and comfort.
Battery tray could stand to be a bit bigger.
Comparatively less responsive steering.
Handling in turns slower in comparison to others on wet grass.
Stock wheels offer minimum traction on loose surfaces.
Speed controls throttle response not very much.
Only 2 years limited warranty.
Complaints of random throttle hesitation.
Batteries sold separately.
Lack of airborne control on 4S.
The 18 pound, 28.8x 18.1x 8.1 inch Kraton 6S is available in red/black and green/black and the whole package includes a detailed manual, nut wrench, box wrench, Allen keys, battery spacers, and high-speed pinion gear. Furthermore, it boasts of the following outstanding features.
The type of chassis includes a standard, flat pan layout (plate with stiffeners) with molded side skirts made out of precision manufactured, 3mm thick aluminum, anodized black material. You will find a narrow rear section and a large composite rear stiffening brace. 
An interesting eye-catch would be the monkey bars located in the middle of the truck that offers a cage-like anatomical structure. Moreover, it also comes with mudguards on both sides, composite stiffening braces are present to reduce the possibility of the chassis bending. The aluminum, upper front support brace covers everything from the gear-box to the steering posts.  
It is quite obvious that the drive train feature available is substantially stable. The mainstream 1/8 layout has triple diffs and steel axels located throughout the structure. The axels on each corner are bulky 5mm shafts, the dogbones are in the center and rear with CV Axels in the front. 
Providing lots of sturdiness via steel based optional pinion gears and spurs. It also comes armed with drive line runs on the ball bearings, well-braced gear cases, and hubs all of which encourage a fast-moving drive line. 
The waterproof, 150A BLX185 ESC and the 1/8 scale 2050Kv, the brushless motor in this model packs quite a punch. A red-anodized aluminum motor mount holds the motor in its place. The aluminum motor mount is also the center diff support that distributes power to the front and rear.
The ESC has a host of parameters that are customizable and can be set to your personal driving style. It'll require 2-35 5000 mAh LiPo Batteries with XT90connectors. And 4 AA batteries. Discover speed control that comes armed with a cooling fan.
It also delivers an ESC fitted with high-power T-Connectors, ARRMA 2.4GHz Tactic TTX300 3-Channel radio and TR326 2.4GHz 3 Channel receiver; the radio system is a conduit featuring an interference-free protocol with a throttle trim that's steers and is adjustable. Thus, permitting you to finely tune and control to match whatever level of skills are within your arsenal. The battery tray holds a variety of packs i.e. 3S, 4S, 6S etc. These intensify the level of flexibility and adaptability that this product has to offer. They even throw in a jumper wire for smaller packs, 6S LiPo compatibility, over-voltage safety, as well as a 2-stage LiPo cut-off.
Turnbuckle-Tunable Suspension
Within this device is an A-Arm front suspension made of a pivot ball design, along with flexible arms and multiple tower locations. Rear H-Arms and stocky hubs are elements of the suspension, complemented by hefty turnbuckles. The camber, roll, and wheelbase are all adjustable. This 4-wheels independent component gets supplementation by the large-bore, aluminum boiled coil-over shocks.
These big bore shocks can be filled up with whatever is your preferred choice of oil and the threaded pre-load spacers alleviate stress when it comes to random fine tuning moments. The ride height is also fixable through pre-load collars.
Without coming off as too overpowering, the low-profile speed truck body appears aggressive-looking in nature whilst supporting a rugged, pre-painted and detailed appearance i.e. Cadillac inspired front grille and headlights. The strong, black, nylon wheels (977mm molded) themselves are black spoke style with a 17mm adapter and the ARRMA Mounted, high-traction tires are dBoots Copperhead All-Terrain fashioned and prove to have a vice-like grip. The large wings and wear-resistant all-terrain Minokawa MT tires can hastily soak up rough landings of extreme jumps or obstructions.
New and improved front and rear hubs bring to the table a better off geometry that directly correlates to far more consistent handling. Their stout production keeps it on its feet longer and away from the repair shop.
Parameters like LiPo Cut-off, running mode and brake strength are all subject to personal adjustments according to how you want your truck to function. Overall, the pre-set factory settings do provide a smooth, linear feel when on terra firma and when the throttle is opened up, there is little clogging, particularly on 6S. 
Our Impressions of the Arrma Kraton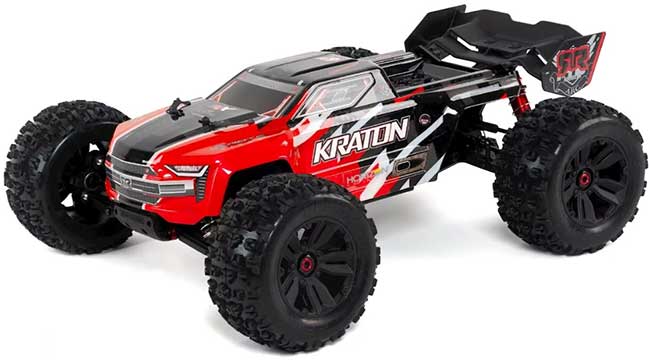 The chassis assists in keeping the weight down low and makes them easy to wrench on. The open chassis offers a ton of space to fit in wrenches and is not crowded, unlike other trucks. An adjustable battery tray exists to accommodate any battery combination. Monkey bar construction on the chassis basically doubles as a crash and body protection system that will readily absorb impact forces when it lands roof-side down. The removable plastic rollbar aids in keeping the shape and lessening any blows to the chassis.
The lower motor rating of 2050kv means provision of more torque whilst simultaneously giving you the option to further gear up if you're more of a blood pumping enthusiast. Being held by the red-anodized motor mount is a heat dissipating method from the finned body section and the factory setting survives all kinds of environments; shorter shocks allow for the sleeker body to optimize aerodynamics. Not only are these new electronics more power producing, but they also bring increased levels of reliability. The combination of BLX185 and 20150kc motor result in outstanding launching power on 4S.
It is aluminum servo hones on fast and responsive steering. Off-power, the turning radius due to the excellent steering throw is very much on point. The aluminum steering arm on the high torque metal gear servo is unique to this model. The lithe arm design means that in an inevitable crash, instead of breakage it results in bending which is less damaging. The highly protective battery mount includes two hook and loop straps fitted perpendicular to allow batteries being fitted side-by-side or even on top of one another.
After numerous crash-testing, the conclusion was drawn up that this is a supremely strong product that even throttle-junkies cannot undermine. The improvements in this latest edition include aluminum arm bolts that are resistant to breaking, novel adjustable oil-filled shock boosts, the revised front pillow ball hubs, and rear upright hubs add another level of protection, race-proven roll bars, mounted high-traction tires that glide and bash effortlessly over rocks, sand, pavements, loose surface etc. and waterproof electronics that ensure low mortality rates all magnify the durability of the product.
On the 4S you can expect run times or aproximately 45 minutes. However, if you choose to upgrade to 6S option, can can easily get runtimes of over 1 hour.
ARRMA Kraton 6S vs Traxxas X Maxx
When it comes to industry leaders, 1/8 ARRMA and 1/5 Traxxas spar each other on almost equivalent grounds of popularity. If we consider the performance of both, it seems that Kraton outshines the competition at a more cost-effective price.
Furthermore, on the matter of durability, Kraton outranks Traxxas X Maxx any day. There have been numerous reports and comments on how you will have to purchase additional upgrades to even come close to Kraton's resilience. It seems X Maxx is prone to fragile center half shafts, breakdowns of the chassis, rear shock tower, upper and lower rear arms and sensitive front bulkheads. A center differential is also noticeably absent from the X Maxx model i.e. increasing the likelihood that the truck landings aren't as smooth as one would want.
Traxxas will require two batteries, whereas Kraton allows a single 4S LiPo to serve just as well. You will see even further cost-saving when all you will need for Kraton is a single-port, high-powered charger versus E Maxx needing a dual-output. Kraton also has a shorter charging downtime period as compared to Traxxas. Regarding speed, Kraton once again takes the lead with a minimum of 60mph whereas Traxass dip down to 50mph. It even has a shorter runtime than ARRMA's truck.
Traxxas does claim first place however, when it comes to a better radio, its exclusive self-lifting action i.e. pressing the transmitter button never fails to return the fallen car back to its original position.
ARRMA Kraton 6S vs Hosim 4WD
Another head-to-head competitor that brings to the industry very similar product offerings is Hosim's monster truck. Although relatively much cheaper than its counterpart and also host to a radio system and all-terrain capabilities, it still is widely popular. 
It maxes out at a speed of 30mph, which is pretty laughable compared to the 60mph+ that Kraton has to offer. Furthermore, it only has a 10-minute run time whereas Kraton exceeds that by a wide margin.
Hosim's truck is for the novice, while the Kraton is for the more experienced.
ARRMA expended a monumental amount of time and effort to transform their brand into producing a top-notch powerhouse truck. One that can cater to speed junkies, driving enthusiasts or simply dabblers in the vehicular industry. Moreover, it has been engineered with premium-grade materials that rocket it through the roughest of landscapes. All thanks to its weather-resistant electronics, strong brushless motors, and heft dBoots Minokawa tires.
It comes jam-packed with countless new updates and features. These will have your head reeling with excitement and the performance will leave you wanting more. Furthermore, they've incorporated within a simple mechanic organism, high levels of sturdiness, efficiency, beast-like power driving force, bounce-back capabilities, high-rate velocity and acceleration, superior tuning algorithms, innovation and colossal levels of multi-surface driving action.