Although getting into remote control vehicles​ can become an engrossing and fulfilling hobby, it doesn't have to break the bank. When browsing the RC market for the best rc trucks, you'll quickly find that there are a lot of cost-effective models which keep pace with their more expensive counterparts.
TOP PICK: GoolRC Off Road Truck BUYThe best RC truck under $100 currently is the GoolRC off road truck. It currently offers the most features at the best price. It comes equipped with a powerful 390 brushed motor with speeds up to 23 mph. The range is 250 feet, which is excellent with the 2.4Ghz transmitter. If you're ready to buy now, I highly recommend this RC truck.
To highlight this, we have showcased some of the best RC trucks under $100, breaking down what they do and how well they do it. This will provide thrifty hobbyists like yourself with all the information you need to make the right choice and distinguish between "cheap stuff" and inexpensive gems.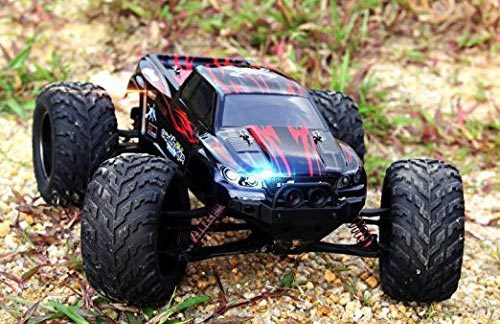 The NextX high speed monster rc truck lives up to it's name, this rc truck is fast. The powerful 390 motor produces speeds topping out at 35 mph, if you're a RC speed junky, this is the truck to get.​
Of course, any rc vehicle that goes this fast in an off road setting must have superior suspension. This one comes with S-truck suspension for easy maneuverability. These shocks provide unmatched handling and control.​
Dead batteries are a drag, nothing worse than running out of juice in the middle of having fun. These lithium batteries can provide up to 20 minutes of drive time. Batteries are actually rated for 10+ minutes, but with finesse driving you can get a few extra minutes out of them.
Another reason I like this rc truck is because of the transmitter that comes with it. It's comfortable to hold and simple to use. It does need 2 AA batteries that aren't included.​
All in all, this RC truck is fast, durable and most likely one of the best rc trucks under $100 you'll find. I'd say it's a no brainer buy if you're in the market.​
Check Latest Price on Amazon.com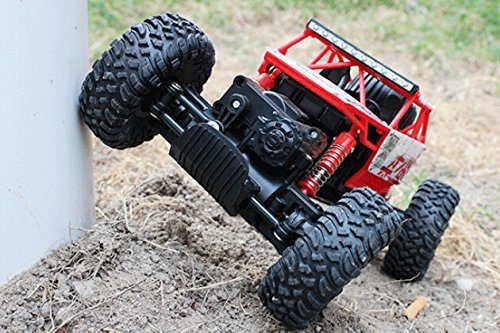 ​For RC enthusiasts who are looking for durability, off-road capacity, with cost savings, this is the rc truck for you.
​This Rock Crawler has "crawling technology", shocks, anti-collision structure, and 4-wheel drive. All these off road features allow this rugged truck to drive over any terrain, in any conditions.
​Whether you're looking to take a spin in mud, on grass, through puddles, or general off-roading, this RC truck is up to the challenge.
When it comes to speed and handling, this truck is a little bit slower and heavier than some other similar RC's. Yet, it more than makes up for it with its versatility.​
Of course, the heavyweight parts allow the truck to absorb the full impact of a head-on collision at top speed. The resulting decrease in speed and agility is forgivable.​
The truck retails at $69, but can found for about half that price, making it an incredible deal. With high quality construction and a host of features aimed at all-terrain performance. You can be certain that no obstacles or weather conditions will stand in the way of this RC truck and your off-roading fun.​
Check Latest Price on Amazon.com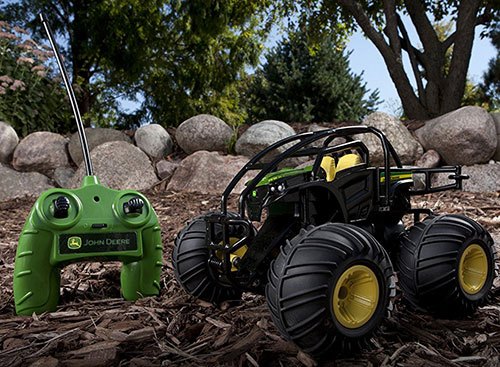 ​​This John Deere-inspired RC truck is a unique fusion of rural farm machinery with monster truck stylings. While this might seem unorthodox at first glance, a quick spin with this rc truck displays how well these elements work together.
​For some, the first concern may be whether a tractor inspired truck has any kind of speed. Rest assured, it does. Although limited to either off or full throttle, with no in-between, this little truck moves along at a respectable top speed.
​Additionally, its huge inflatable tires allow the truck to bounce off uneven terrain and keep on rolling. So you don't have to worry about losing control of the vehicle at top velocity.
​To complement this, the solid construction allows it to withstand even the most intensive courses. You can rest assured that it'll survive whatever you can put it through.
​Finally, it comes with rechargeable batteries which last a long time, a pleasant contrast to similar RC's in its class. Bottom line, if you've ever wanted to merge a tractor with a monster truck, crank it up to full speed and race an all-terrain course, this is the RC truck for you.
Check Latest Price on Amazon.com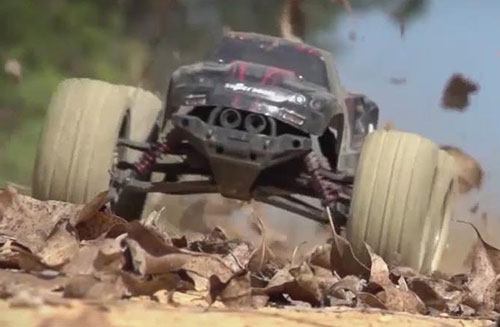 ​This RC truck is just about the fastest and most powerful truck in its class. Making it an obvious inclusion when discussing the best RC trucks under $100.
​When you take one look at this sleek truck with its oversized tires and blue flame paintjob. Speed will be the first thing that comes to mind, and rightly so.
This impressive truck tops out at 33 mph, thanks to it's GP Brush 390 motor, ​the largest engine available for a truck this size. If that's not enough, it includes S-Truck suspension to make sure that this car handles well, even at top speeds.
So yeah, it's fast, but anything that fast is going to have to handle a collision, so how does it hold up? Despite all plastic construction, the truck actually holds up well. Not to say it won't be subject to damage if you lose control and crash it at high speeds.​
Although it is capable of going off-road, it does not have quite the grip or the ruggedness of its competitors. It's best suited for high speed maneuvering in large, open spaces.
If you're a speed enthusiast with a lot of room to run, definitely give this RC truck a whirl.​
Check Latest Price on Amazon.com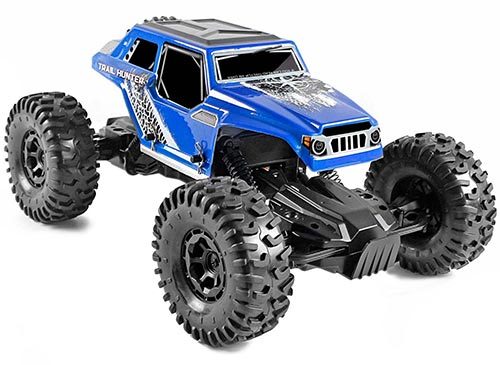 The second rock crawler truck on this list, the Danchee Trail Hunter. It's a bit more pricey than the Top Race model, but its features and quality are well worth the price.
The first thing that sets it apart from other Rock Crawlers in its price range is its hill braking technology. It has plenty of features that make this an unbeatable rock climbing truck.
It has a auto braking system, when you let off the throttle the brakes are automatically applied. The feature provides you with superb handling abilities.
It also has dual motors, giving you ample power to traverse pretty much any obstacle you can throw at it.
The next thing that you might expect is a top-tier suspension, and this truck does not disappoint. Driving over rocks, branches, or uneven terrain, the Trail Hunter plods along and almost never gets stuck.
With so much emphasis on maneuverability and off-roading, the only real downside is that this truck lacks a great deal of speed. But, if off-roading and rock crawling are your intended use for this RC truck, this lack of speed isn't a drawback.
For RC enthusiasts who are into off-roading, you'll be hard-pressed to find a more comprehensive example of a rock crawler in this price range.
Check Latest Price on Amazon.com
Final Word
​So what's the verdict? Are you going to pick up the versatile rock-climbers and go forge your own paths? Perhaps you would rather pick up one of the speedsters and turn your neighborhood into a race track.
Whatever you're looking for, whether you're an experienced hobbyist or just getting started in the world of remote control trucks, there's something for everyone. These are a few of the very best RC trucks under $100, and they combine top quality with great pricing. Pick one up today and see for yourself!
[tcb-script async="" src="//z-na.amazon-adsystem.com/widgets/onejs?MarketPlace=US&adInstanceId=e0e34bf2-2210-4a6b-9269-79e30faac607″][/tcb-script]