For racing enthusiasts, RC bashing season is the most looked forward to and fun season of the year. Who doesn't want to race without rules and as ole Harry Hogge says, do a little "rubbing". That's a Days of Thunder reference for you youngsters.
So for this RC bashing season we are going to help you decide the perfect RC bashing beast to fulfill all the thrill seekers out there.  If you're in the market for the best RC basher, take a look at the below options.
And if you a complete newbie into the sport, don't worry, we've covered everything you need to know about RC bashing in the buying guide below.
Arrma Senton MEGA 4x4 RTR
This ready to run 4×4 RC basher truck from Arrma is perfect for someone new to the world of RC bashing. It is not heavy on the pocket and gives you the perfect features to enjoy your bashing experience. 
It is 2S-Lipo compatible and has a scale of 1/10, which is the most common scale on a variety of electric engine RC bashers from many popular manufacturers.
With the tactic transmitter, it provides immense control to the user and helps in keeping the proper track of the vehicle. 
The body of the truck is made with aluminum and tough steel to keep it intact during the rough bashing sessions. 
It is completely ready to run (RTR), all you need to do is to charge the battery and add double AA's to the transmitter and you're ready to go!
Traxxas RTR Rustler Stadium Truck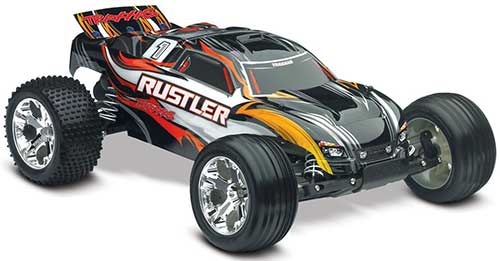 This stadium truck comes in a 2WD option and a waterproof receiver box. The receiver box provides long range remote control options with a 3 channels receiver. 
The Rustler is loaded with innovative and high-quality products. All the shocks and gears are made with extra-precision and are fully oiled ready to use. The quality of the ball bearings and other mechanical parts is not compromised on.
All the electronics from the steering servo to speed control to the battery chamber, everything is waterproof. You can drive it anywhere you want without worrying about the truck ruining its connections. 
Unlike other RC basher trucks, it comes with its own 8.4 volts battery that has a Direct current charger included in the package. 
With a maximum speed of 35 miles per hours and battery capacity of 3000 mAh, it gives you the perfect thrill experience.e 
Team Redcat TR-MT10E 1/10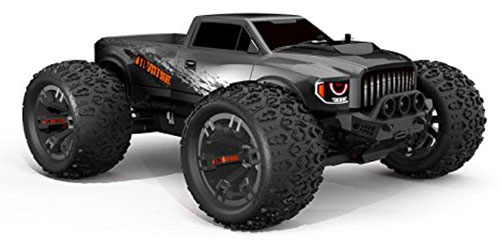 This dandy monster truck is available in two beautiful colors i.e. gunmetal and orange. With its extra durability and electric motor, it is one of the best RC bashers on the market. 
This product offers premium-end features at a reasonable price. It is one of the few monster trucks offered by the Redcat and comes in a ready to run option only.
The truck is made from differential reinforced steel that makes it extra durable and sturdy. All electronics are specifically made to be waterproof. 
The ball bearings and screws are tightened and well-oiled so that the motor runs flawlessly during the more intense bashing sessions. 
Since bashing and off-road racing are very hard on the vehicle, this monster truck is made specifically to deal with that kind of damage.
Team Losi XXX-SCT Brushless Truck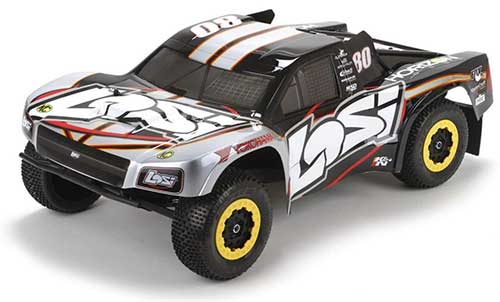 This RC basher has a punk graffiti design that is loved by many. The chassis of the truck is made with a composite mold that is very durable and sturdy. It can easily handle the rubble and stones that may come underneath it.
The motor and ESC both are brushless that give you high speeds and smooth control. Handling due to the brushless ESC is very easy.
The receiver used is an enhanced AV receiver that is compatible with the brushless power and helps in giving the required accuracy of control. 
Its shocks are aluminum coated and perfectly oiled for absorbing all the jumps and rough terrain one may encounter while bashing. 
All the electronics used are waterproof and the design is made to be aerodynamic, so the friction does not hinder the race. It comes with a lipo battery and its fast charger that gives you good run time.
Team Losi 1/8 8IEGHT Nitro Buggy RTR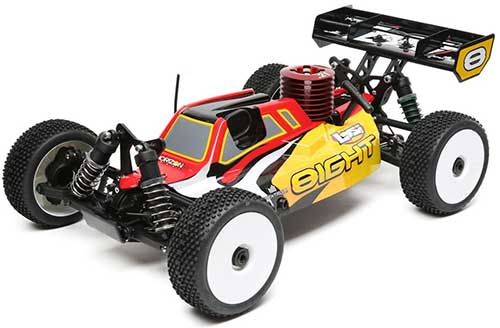 Unlike all the above-mentioned products, this is a buggy and it's nitro powered. With the nitro engine, it provides immense speed to the user, but with a little more required maintenance.
Since it is a buggy, its center of gravity is lower than other bashing cars which is why picks up more speed. 
The chassis plate is made more durable to handle the speed and the material used for its construction is t-6 aluminum which is known for its quality and sturdiness.
The third generation radio tray gives a higher servo life to the buggy. The stock engine is called a Dynamite .21 engine that has a good reputation in the market. However the only starting method is pull start.
The geometry of the buggy is made to cope with high speeds and air friction. All the components are waterproof and the body parts of the buggy are made such that they are not easy to break.
Choosing Your First RC Basher
This might seem like an easy task but most of the first-timers either get fooled or don't get what they were looking for. Hence, before investing money in something like an RC basher, it is highly advised that you research what you are looking for and know what features you want in your RC basher. Because, let face it, it's not like you will get a new RC car every month.
The first thing that is used to lure in newbies is the thrill for speed. Marketing techniques include using words like "faster RC basher" or "you won't find a basher as fast as this one". But trust me, you don't need crazy speeds of more than 50 miles per hour. If you're experienced, yeah, you can handle those speeds, but amateurs will really only be hitting speeds upto 35mph.
Another mistake that the newcomers make is ordering their RC basher online. I wouldn't recommend it for first time buyers. You will have a lot of questions and setup support and it's difficult to find that info online. Go to your local hobby store, ask questions and find the best rc basher for your needs. Not to mention you'll be support local business and you'll have real-time support.
This is the foremost thing that should be considered while choosing and driving an RC basher. Some cities have laws related to driving RC cars, check if your city has some and abide by the rules.
For better safety, before ever drive check the tires and engine of your RC basher to see if there are any loose bolts. This is common especially in bashing vehicles as they undergo various jerks and vibrations during the whole bashing process, moreover, checking the shocks of the car is also very important.
Once you are don't with checking condition of the car, safety during the driving process is the next step. Make sure you know how to run the machine and have proper practice. If you are new to the whole scenario, make sure you practice before you take your RC basher out for off-road racing and bashing. 
Even though this car a smaller scale, the average weight of a basher car or truck is approximately 12 pounds. Imagine a 12 pound car at 35mph hitting somebody. It can cause some serious damage. So definitely make sure you have complete control over your machine at all times.
Attributes to Consider for Your RC Basher
The attributes that you need to consider before buying a basher depend on your interests and the way you are going to use it. 
If you're only interested in running your vehicle on road, you'll best suited to look for RCs with lower ground clearance. Off road vehicles will need a higher ground clearance.
Some of the attributes that would help you choose the right RC basher are:
There are two types of engines that are most commonly preferred, these are electric engines and nitro engines. Electric engines are less complex and demanding as compared to nitro engines. They only require you to charge the battery and you are set to drive. 
Electric engines in comparison to nitro engines are much quieter. If you are in a neighborhood where people mind making noises than going for a nitro engine might not be a good option as it is very noisy.
For an electric engine, if you have 4-5 battery packs, one session of off-road race can be easily done while in the nitro engine you have to make carb adjustments and carry the fuel around with you. The fuel is messy and tends to leak.
Moreover, the battery packs of the electric engine are a onetime cost and go a long way where the nitro fuel can be expensive ongoing cost. However, electric engines don't have extra features like engine reviving and smoke.
For experienced RC bashing enthusiast's nitro engines are a good option since they have experience on setting it up and running it. If you're not so mechanically inclined or don't understand how motors work, stick with electric.
Assembly is a significant part of the RC basher world. The kind of assembly offered depends on the company. Some cars come with only ready to run options, while some only come as a kit which needs to be assembled yourself. Then there are those that come with both options and you can choose which one you want.
For newbies, a ready to run RC basher is a good option because assembling the kit can be a hassle and can take a while to get right. Even though ready to run packaging says that all you need to do take the car out of the package and start racing, there are sometimes a few extra things you need to purchase. A lot of so called RTR cars do not include batteries and chargers so that is an added expense.
Another consideration for a ready to run bashers is that sometimes they may be stocked with lower quality components. Companies want to offer competitive prices and this is the best way to do that. Sometimes this is worth the trade off, you can upgrade parts to your exact specs and still come out cheaper in the long run.
DIY Kits - Some Assembly Required
Coming to the kits now, there are two different types of kits, some are assembled while others need assembly. Even the assembled kits require you to buy engines and other electronics to install in the basher. 
So basically, most of the time when you buy a kit you are building your own RC basher from scratch. All you get is a frame, you need to buy the engine, the electronic controller, transmitter, and receiver etc. This is not only time consuming but needs a lot of effort added as well.
If you're a DIY person, buying a kit could be the best option for you. If you have a kid this could be an awesome project for the both of you.
Generally speaking, experienced RC racers prefer kits as compared to the ready to run cars because they feel they have better control on the specifications and features of the car this way.
The possibilities in the world of RC cars and bashers are endless. This article is written to give newbies an insight into the world of RC bashers and to brief them about how things work. 
Always going for the most expensive and difficult to handle RC bashers is not the correct approach as each product and brand has its own positives and negative.
From the top five RC bashers chosen in this article the Traxxas Rustler RTR Stadium Truck is a clear winner. Like I already said, some RTR trucks and cars need separate equipment to be bought for an upgrade or proper control of the car but this one by Traxxas requires no extra equipment or additional electronics for proper working. The kit includes all the necessities and it gives its best performance whether bought by a newbie or by an experienced RC basher.
The Traxxas Rustler is electric powered and has all the vital premium features that should be available in the best RC bashers. The best part is that it comes at a reasonable price with no extra costs.