UPDATE: The HPI E10 has been discontinued. I would recommend the Redcat Racing Lightning EPX as a replacement.
The RTR E10 Drift from HPI Racing is a remote control drift car that is a tenth the scale of the actual drift car. It is electric and capable of drifts designed to be realistic. This car is easy to use and can be enjoyed by enthusiasts of all ages, whether you are an adult passionate about cars or a child looking to build an interest.
The E10 Drift comes in the box pre-assembled, painted and ready to use as soon as the box is opened. It is always nice to be able to enjoy your new toy as soon as it is taken from the box. Those features are just the beginning of many offered on the HPI E10 Drift car. Continue reading to learn more about the E10 drift car and whether or not it is a valuable addition to your life.
RTR E10 Features
The RTR E10 offers many awesome features and functions for the user to enjoy. The car has 4-wheel drive; suspension and custom designed Falken RT-615K drift tires. In a paved lot, this drift car operates with complete ease. The car also has an enclosed drivetrain that ensures that the inner gears remain clean and functional. The chassis has been created for durability and reliability.
Popular features of the HPI E10 Drift Car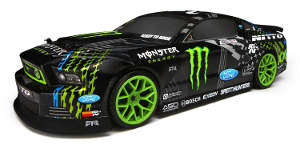 Radio with 2.4 GHz
A/C Wall Charger
Rechargeable 7.2v NiMH HPI Plazma battery
Foam bumper that absorbs shock
A 27T 540H high-torque Saturn motor
Bellcrank steering
Waterproof speed control electronic
Waterproof SF-10W Servo
Adjustable body mounts
Remote Control
The Ford Mustang GTR shell is shipped with the car. This shell is made of plastic material and includes headlights, windshield and other stickers to help make it look as realistic as possible. The shell resembles closely the actual Ford Mustang GTR series vehicle, so this is what to expect with the purchase.
The included remote control features several different functions that you will love using. This includes a steering knob with three channels, adjustable steering and three channels of operation. You will need a total of 8 AA batteries to use the remote. The batteries are not included.
Inside of the box is also an instruction guide. The guide details how to convert the powertrain to the drift layout option as well as regular use of the drift car. Keep the instructions safe because you'll want to refer to them as often as possible.
Enjoy the HPI E10 Drift
If you are a beginner to the world of scale car collecting, this is the perfect choice to start with, but of course it is equally impressive for those who have long been collecting. The car is great for those who are learning how to drift but want the most realistic experience possible.
The cost of the drift car is definitely a highlight. At the low cost (Amazon has the lowest price) you can afford to put it into the hands of children. The vehicle offers great durability and is low maintenance, so you won't need to worry about accidents as you would with some of the other cars out there.
Many users of the car do report that the body will crack easily, so keep this in mind. Most would recommend that you have a second battery on hand, charged and ready to go, however, because it can wear quite quickly.
The RTR E10 is able to accommodate many different types of flooring for great drifting. This includes blacktop and paved grounds, asphalt and even tile flooring. Slight spinning is easily corrected, as long as you have a smooth surface. A simple replacement of some of the plastic parts on the vehicle with metal parts will also help.

Final Thoughts
The RTR E10 drift car is affordable, fun and a great vehicle for anyone who wants to enjoy the fun world of drifting. It comes out of the box ready for you to enjoy, and offers a number of awesome upgrades and parts so that you can create a totally customized drift car. It is with these extras that you really get the most out of this car. This is definitely one rc drift car you'll want to add to your collection, but beware! It can become very addicting.