Rainy days can make you blue, but not if you have RC helicopter you can fly indoors. Didn't know that was possible? Good news for you and me, it is. Don't let bad weather dictate when and where you can have fun!
​What does it take to be a indoor rc helicopter, not much actually. Firstly, it needs to be small enough to fly indoors, the bigger it is the more space required to fly it. Also, electric is a must, you can't safely fly a gas powered chopper indoors, that wouldn't be smart at all.
With all that said, let's check out the Top 5 Best Indoor RC Helicopters.
Syma S107/S107G RC Helicopter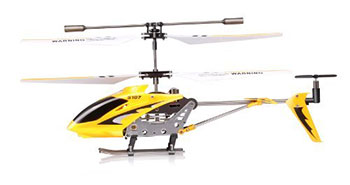 Check at AmazonAmazon.com
I like this little rc helicopter, it's perfect for indoor use! Its small, electric and easy to fly. The Syma S107 is a popular rc helicopter for many reasons, but I believe more so for the price. It's really affordable and packed with some great features.
A couple stand out features include dual frequencies, which allow you to fly 2 rc helicopters at once from a single transmitter. That is pretty sweet if you ask me. But I have a hard enough time flying one, 2 is out of my league!
However, with the latest gyroscope technology, stable flight isn't going to be an issue. Making this RC chopper ideal for any beginners looking to take up this hobby.
Charge time for this helicopter is around 25-30 minutes with a flight time of 8 to 12 minutes.
As mentioned earlier, its sized perfectly for indoor use. It's rotors are only 7.5 inches wide. You can maneuver this guy into some tight spots.
Here is a cool video of dual Syma S107G's in flight, this kid has some skills!
One other thing I should mention about the Syma S107G, is that it's very durable. The metal frame construction can withstand crash after crash, and like I said before for a beginner this is crucial.
Silverlit Nano Falcon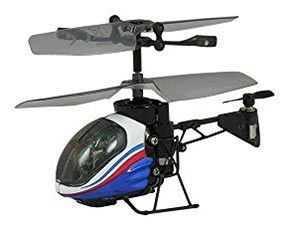 Check at AmazonAmazon.com
Everything you need to know about this RC helicopter you can get from its name. The Nano Falcon is tiny! So tiny in fact that it's the smallest RC helicopter made, in the whole world! It's actually kind of cute.
This little chopper has 3 channels, allowing you and your friends to fly on separate channels to avoid interference with each other.
You can control it to fly up, down, front & backwards and also left to right. It has a built in gyro stabilizer that makes flying it dead simple.
Also with the variable speed rotor system you have complete control over this rc helicopter at all times.
Much like the Syma S107, it takes around 30 minutes to completely charge the Nano Falcon, and you can expect to get around 10 minutes of flight time.
Blade Scout CX-RTF 3-Ch Heli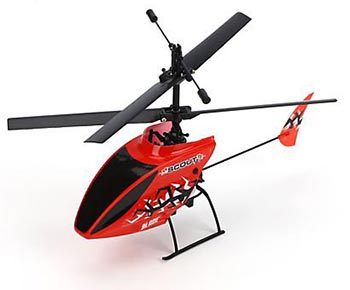 Check at AmazonAmazon.com
The Blade Scout is a "Ready to Fly" RC helicopter, meaning it comes with all the necessary components to start flying right away. All you need to do is un-box it, add the included batteries into the transmitter and your ready to go. Pretty cool, these RC heli's almost never include batteries so that's nice.
The 3-ch transmitter allows for many helis to fly at the same time to avoid interference on a single channel. It also has a built in computerized piezo gyro that provides outstanding control and stability.
This particular RC helicopter is really made for indoors only. Unless its just dead calm outside, the lightweight construction of this helicopter would get tossed around in the wind.
The battery life for the Blade Scout is like others in this class, around 20-30 minutes to fully charge and 8-10 minutes of fly time.
Hero HC H911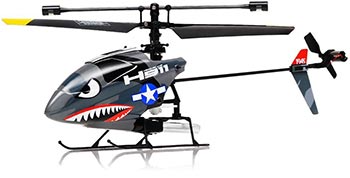 Check at AmazonAmazon.com
While it says the Hero is an indoor / outdoor rc helicopter, indoors is where it excels. In my opinion, its just too difficult to fly outside if there is any wind at all. That is generally the case for most of these light weight RC helicopters.
So yes, this helicopter is light weight but its also built durable with composite plastic materials. These materials provide forgiving strength to withstand multiple crashes from a beginner.
Another cool feature is the LCD screen on the transmitter. This screen provides the pilot trim information with a visual of the settings. If you're not familiar with trim, you can read about what it is and how it affects flight here.
This package is intended as a RTF (ready to fly), so you can realistically take this RC helicopter out of the box and be ready to fly quickly after charging the batteries. In the event you do have some major crashes, extra blades are included if you need to replace one.
Coolness factor, this little bird has it in spades. Who doesn't like the shark face canopy. It looks awesome for sure.​ Replacement parts are easily found on ebay if you need them, they are usually inexpensive so that is nice for sure.
Overall I'd say the Hero H911 is a fantastic RC helicopter, well worth the money for an indoor helicopter.
Syma 16.5CM S026G Mini Chinook RC Helicopter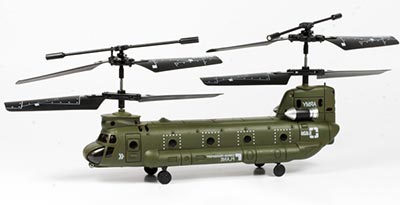 Check at AmazonAmazon.com
I absolutely love these helicopters. I remember these choppers would fly over my house all the time, I guess we were in a military base flight path. But these would always fascinate me, they are just awesome looking.
Now I get to actually fly one, what!!! Well, just the mini RC version. I'll take it though, because this Chinook RC Helicopter is cool and super easy to fly.
It comes with the latest gyro technology, which makes it super easy to fly and hoover. The visual aspects are also cool with flashing LED's and a detailed fuselage. These LEDs look nice in low light situations.
You can hoover this chopper up and down, turn it clockwise and counter clockwise, and of course move it forward and backward.
The 3.7V Li-Po battery has a charge time of 20 minutes and you can usually get 7 minutes of flight time from a single charge.
This is a light weight RC helicopter, I'd suggest only flying indoors as any slight gust of wind will blow this guy around pretty easily.
Would i recommend the Syma S026G to a beginner? I probably would not, I would recommend the Syma S107G. A couple reasons why, it's cheaper than the S026G, a little easier to fly, and the battery life is a little better.
Conclusion
There are many great choices for an indoor rc helicopter. It comes down to experience level and your budget, both things you have to make the decision on.
If your a more experienced RC helicopter pilot some of these choices may seem like toys to you and you'll need to step up to a more advanced helicopter.
For most, the above selections will be the best indoor RC helicopters you buy, they have enough features to satisfy a complete newbie and even some more experienced.
[tcb-script async="" src="//z-na.amazon-adsystem.com/widgets/onejs?MarketPlace=US&adInstanceId=b1e8a086-7a4c-4b17-9e1d-fdf16d46b74c"][/tcb-script]