Ever since RC drones started trending, we have seen many more companies help expand the market by adding RC boats, subs, cars, helicopters and other creative RC's. They even added cameras in them, which adds a new way to look at things underwater, on the ground, and in the air! These luxurious toys tend to come in a variety set of prices, and quality may impact the price range on them.
These are all budget oriented for beginners, but if you're a photographer or love to explore ways to record videos in unique manners, then you should invest in an RC sub that has better features than other submarines that won't break as easily. Here are 5 of the best RC submarines available on Amazon.
GERMAN U-BOAT MINI RC SUBMARINE
This one would definitely interest those into military-type toys, especially from the second World War. This mini-sub has 3 motors used to control the Static Driving, Propeller System and Rudder System.
With the Static Driving System, this submarine floats and dives down 0.6 meters under water. The Propeller system allows the German U-Boat to move forward, back, left and right. The small Rudder system allows the submarine to rotate 360 degrees.
This RC is only 145 mm in length, 33mm in width, and 48mm tall. It weighs 3 oz. which makes it great for bathtubs and other small sorts of tubs. With the front LED light this sub carries, you can drive it around in the dark!
Although this boat is on the smaller side, it still requires 6 AA batteries to operate. This sub contains a 3 channel 27MHz radio system. It also glides at 0.15 knots, which is 0.1m/s.
You are provided with a USB charging cable that is used for the transmitter and the socket. A full charge would take about 20 minutes to complete, but it'd take about 15 minutes to drain the battery. The rechargeable battery provided for the sub is 180mAh Li-Po.
Silverlit Spy Cam Aqua Submarine
Now, this seems like a game changer! The Silverlit Spy Cam Aqua Submarine comes only in yellow. It includes a detachable feeder arm. You can use this to get fish really close to the camera that this RC sub includes, and take some background-worthy pictures.
Oh, I recommend that you should put food in there. Obviously, the packaging doesn't include food so you'll need to purchase some.
This sub contains a 3-Channel Infrared Control to allow floating, diving, climbing, moving forward, backward, and turning left and right. It is recommended you use this sub in either a bathtub or a freshwater fish tank when starting out. It also features 2 LED headlights that might be entertaining to use in the dark, and help provide lighting for quality pics with the fish!
What makes this little aquatic swimmer unique, is the fact that it also carries a camera that lets you record video and take pictures underwater! The camera includes a memory capacity of 256 MB. The photo quality is 1280×960 jpg. The video quality is 640×480 AVI. You can also add the gallery to your computer through a USB cable.
The sub requires 8 AA batteries and one LI_POLY battery. One great feature, if the sub goes out of range or the battery dies on you, it will automatically float to the surface.
The Sea Wing Star 3311-2 might be one considered a little more for the kids. The sub is radio controlled and electric powered. Unsurprisingly, it is waterproof.
The RC contains four channels. It can turn 360 degrees. It can go forward, back, up, down, left, right, and it carries a suspension.You can operate this from within about 5 m. The diving depth is 0.5m, which isn't bad. The speed is 0.1 m/s.
The boat is 140mm in length, 51mm in width, and 35mm in height. The radio controller frequency is 40 Hz. The transmitter battery requires four 1.5V AAA batteries, which are not included. The built-in battery is 3.7V 120mAh lipo battery.
The package only weighs a light 95 grams. It comes with the submarine, a transmitter, an antenna, a USB cable and an English manual.This boat does not carry a camera on it, but you could always attempt to connect a GoPro! This also isn't operated with FPV.
It takes 30 minutes for a full charge, and allows about 10 to 12 minutes of playtime with the submarine. The boats come in either yellow or blue. If you are looking for a gift to a friend or child, this RC sub will leave them entertained.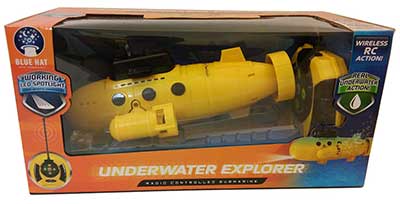 Check at Amazon
Here's a yellow RC submarine that would be easier to spot in bigger pools. It only comes in yellow, which could be a little disappointing. Even so, the color shouldn't matter too much if it runs through water like the wind.
The submarine is multi-directional. It features twin directional propellers. The submarine could go left and right, backward, forwards, upwards, and downwards. This lets the RC dive a little deeper.
This little diver also contains a spotlight, as many other submarines typically do. This RC requires 4 AA alkaline batteries to operate. The remote control requires a 9V alkaline battery. This submarine is recommended only for bathtubs or swimming pools. They should not be placed in saltwater, as the salt in the water will disrupt the proper function of the propellers.
The length of this submarine is 9.8", the width is 5.67", and the height is 4.53".Here's a little tip worth sharing: If you ever get the best RC submarine out here, or even a cheap one, make sure to use alkaline batteries for them. If you use lithium batteries and they somehow leak from the RC into your pool, you might just have created a huge toxic wasteland in your backyard. Maybe even in your bathtub!
This submarine is recommended for children ages 6 and up. It might be considered a little more on the higher prices for a toy, but the call is totally up to you, and how much you are willing to spend on an RC for yourself or others.
Check at Amazon
This is that toy you want to get for short-term entertainment! Not only is it an adorable, little RC submarine, it's also only 20 bucks!
This submarine comes at an outstanding 4.9 inches long.The sub has a 6-channel function: It could go forward, backward, turn right, left, submerge and resurface. It goes down underwater up to a meter!
That is a lot more impressive than many other RC submarines. The control distance is also impressive. The control radius is 5 meters. That's 15 feet!
The submarine was made to be safe for your child and durable! This mini-sub is meant for children, as it passes the certificate of ISO9001 from International Quality System. The toy is CE marked. The material is non-toxic and has no sharp corner that may scratch the handler.
The setup was made to be easy. After reading the handler's manual, you only need 4 AA batteries to make the transmitter work. They can also be used to charge the RC. The sub has a rechargeable battery that is charged through the transmitter.
For a full charge, you need to leave it connected for 9 minutes. Sadly, it only lasts 6 minutes of play time.Also, avoid using high capacity batteries. They might burn out the circuit board!
Conclusion
With all of these new RC's coming out, there is a big chance that more water resistant and better quality submarines will be coming to the RC market soon. These are just some of the many budget RC submarines that you will find through research.
There are some bigger and possibly some others that are smaller or even much more expensive rc submarines. Whatever you consider the best RC submarine in your opinion, there is probably a one out there waiting for you to order or pick up off the shelf.
Make sure to check the sizes, what they include on the sub, and how well they run underwater.
[tcb-script async="" src="//z-na.amazon-adsystem.com/widgets/onejs?MarketPlace=US&adInstanceId=e0e34bf2-2210-4a6b-9269-79e30faac607″][/tcb-script]