If you are looking to take the trophy home with you, you need to race with the best short course RC truck possible. 
Put a few RC truck enthusiasts together with their trucks and know whose beast is the best. The adventure of the competition is to see which short course RC truck withstands the difficult situations and come out as a winner without giving up. 
In this article we review 5 of the best short course trucks available today. For a quick reference the trucks we review are listed below.
Best Short Course RC Trucks
Before we get into reviewing the best short course rc trucks, let first look at what makes these trucks the best and other aspects you should know before you buy one.  Here's our best attempt at a buyers guide for short course RC trucks.
Keep in mind the terrain that you plan to run your short course RC truck to race on, make sure it has the suitable tires to endure the specific terrain. 
It's better to go for the truck that can easily race on various terrains such as grass, mud, rough or sand dunes.
If you are planning to run you short course RC truck at the sand dunes, bear in mind that sand is not good for machinery, be it a remote control truck. 
However with proper care, a high-quality short course RC truck can handle the dunes, but you might have to buy different tires for sand dunes.
It can be considered the most common racing surface and one of the toughest terrains for RC trucks. 
A lot of friction is caused by grass, so it's better to check the length of the grass. Taller grass is difficult to race on as compared to shorter grass.
Pavement is the best terrain for short course RC vehicles as they provide the least resistance, plus when it comes to concrete there are less limitations. All the recommended short course trucks can race on pavement without issues.
It depends on person to person what type of a short course RC truck they are looking for, some want one with high speed while others are seeking for the one that is easy to drive. 
It all depends on how well you can handle your car; moreover, you can go for a 2WD or a 4WD. As compared to a 2WD a 4WD truck allows you to race in high speed.
If you are still in the learning phase and require some practice then it's recommended to go for a 2WD short course RC truck. It makes you a better driver, making you more challenging and it toughens you for difficult competitions. 
A 2 wheel drive runs in straight lines and is able to make a 180-degree turn. Besides, those trucks are quite affordable and are easy to use. At first, you may not like the moderate speed but it will prevent severe damages making your RC truck run or a longer period of time. 
Apart from that, a good 2 wheel drive will let you master the skills needed making you much more experienced for future races.
If you want a truck with a strong grip then 4 wheel drives ought to be your thing. They give you more stability; unlike 2 wheel drive, a 4WD is more aggressive. 
Once you've mastered a 2WD drive on the race track, upgrading to a 4WD gives you an amazing control on the course. The performance gains on the track are well worth the investment for a 4 wheel drive truck.
Every motor is different from the other; it all depends on why you are buying a short course RC truck. Many people buy it for their kids to play in the back yard, whereas others purchase an RC truck for racing. An ideal motor for your truck will give you the desired services.  
The RC world basically has two types of motors, brushed and brushless.
Brushed motors are the oldest form of motors; they are less expensive and efficient. Vehicles that have brushed motors are pretty affordable as compared to the ones with brushless motors. 
They are designed in a way that allows them to stay open to the environment; however, this can add debris and dirt in the motors, that can lead to failure.
Unlike brushed motors, brushless motors are more expensive, more durable and more efficient. They do not wear out as easily and quickly as brushed counterparts, however, they are expensive to replace when required. 
If you want a vehicle with more speed and power then go for the one with a brushless motor.
Buying a short course RC truck knowing it may die a fiery death is just a waste of money. Make sure that the one you are buying is made from high-quality material that will last longer. 
Pick the one with superior durability, be it the body of the vehicle or the remote, choose sturdiness over everything else.  
If the RC truck is waterproof, it is guaranteed that the product is durable. Furthermore a waterproof short course RC truck can be used in wet conditions or rain without any fear. Internal components will also be protected because of waterproofing.
RC trucks are for both kids and adults, there are various RC trucks specially designed for big boys. So that why for some a small sized is suitable while for others a larger one is a good choice. To get an idea about the size of the truck, check its dimensions and the scale.  
Besides that, if you are planning to race your RC truck on trails, go for the ones with large size. The large short course RC trucks easily manage the bumps on the way. These vehicles come in various sizes and versions.
Today's Best Short Course RC Trucks
Now that we know what to look for in the best short course rc truck, lets get into the reviews.  The below trucks are some of the best SCT available. 
Redcat Racing Blackout SCT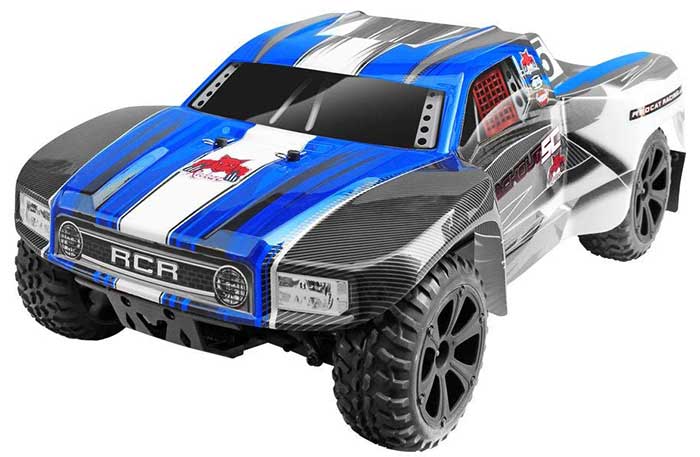 Are you up for a lifetime experience? The Blackout SC PRO is extremely fast and exceptionally powerful. 
This amazing short course RC truck comes with a heat sink, ESC and a brushless electric motor. As soon as it's out of the box, it's ready to run, giving tough time to its competitors. 
Apart from that, it comes with a LIPO battery and a charger, Blackout SC PRO is a complete package. It's a 4 wheel drive with advanced features required to withstand tough conditions. 
Moreover, the forward/reverse ESC allows you to navigate difficult spots. This RC truck is lightweight, has shocks with oil filled adjustable coils and independent suspension that helps in delivering remarkable performance. 
Other than that the waterproof electronics ensures durability and the 2.4 GHz radio system increases its value.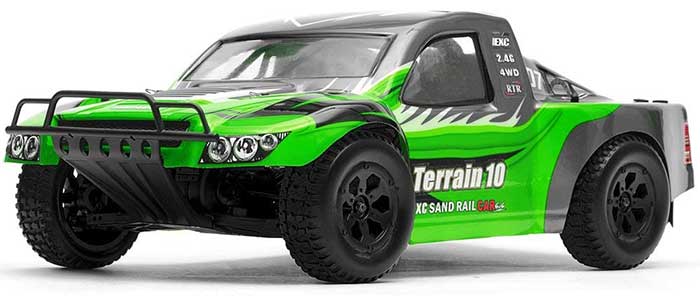 The Exceed Racing Factory has recently introduced a stunning looking short course RC truck. If you are in a search of a ready to run short course RC truck then this is the right option. 
The electric speed controller of this vehicle is brushed waterproof, plus there is also a forward and reverse ESC. Besides that, it comes with an electronic speed controller that helps in better performance. 
It has amazing power delivery that is sufficient for spinning the tires and performing great dirt power slides.
The tires are suitable for all terrain, no matter what landscape conditions you are in, it will ensure great traction. You must be wondering how fast it can go, right? It can go up to 35 mph. 
This short course RC truck can easily race on snow; obviously, it won't run on the top speed there but 25 mph is guaranteed. 
Apart from that if you are racing this gorgeous beast on gravel, grass or mud you'll face zero problems.
It is apt for RC truck enthusiasts.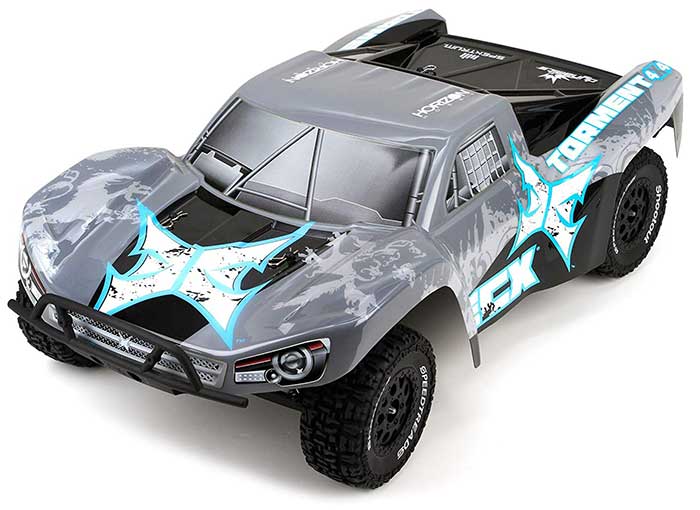 This short course RC truck comes with great front wheels, they go where ever they are pointed, plus the rear pivots easily without causing any trouble. 
The Torment 4WD runs pretty well without any extra effort required. Even if you have bumps in your way, this truck will jump just right because it has a nice set of shock settings and a great geometry.  
You can take it in rough terrains, without worrying about any damage. It keeps on going forward; you'll feel that unlike regular RC trucks this one doesn't bounce too much. 
Moreover, it won't go out of shape even if it gets filled with dirt. In short, it comes equipped with everything you need for an off-road exciting trip. This versatile short course RC truck is extremely durable and has some advanced features. 
The motor is quite powerful, besides that, it comes with a LIPO battery and a ready ESC. You have to put minimum effort to push this stunning truck to its maximum potential.
Once it's out of the box, it's ready to run. In all, this vehicle is highly capable, a 2.4 GHz radio system adds to the value. Unlike its competitors Torment 4WD does an interference-free operation, also the waterproof receiver is a feature that makes it stand out.
Good for both experienced and beginner racers.
Traxxas Slash 1/10 Platinum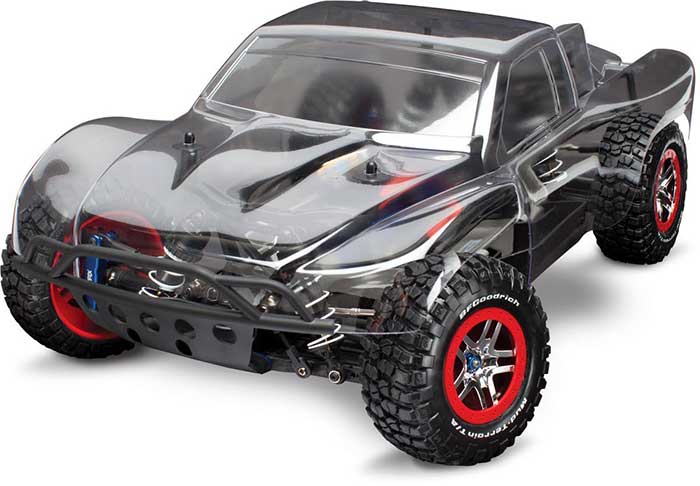 The Traxxas Slash Platinum edition is getting into the expert level of short course trucks. I say this because this particular truck is a almost ready to run truck.
What that means is this truck doesn't come with a transmitter or receiver. You will need to provide your own which can be good if you have a receiver you prefer to use. Downside is that is an extra expense on top of the cost of the truck.
You'll probably also notice the body is clear polycarbonate. This allows you to fully customize your trucks paint scheme.
The Platinum edition includes aluminum suspension components, silicone filled differential that has replaced the old style slipper clutch.
Furthermore, it is loved for the outstanding performance and great efficiency. It delivers quality performance due to the low center of gravity chassis, other than that unlike its competitors the electronics are situated as low as possible making the chassis perform better. This triangulated structured beauty comes with a brushless powered motor. 
To prevent drags and snags the underneath of the chassis is kept extra smooth. The intelligent design of the truck helps in maximizing the stability and speed no matter what terrain you are in. 
The low center of gravity designs allows faster lap times, besides that it has sealed shocks that prevent dirt from entering in and keeps the oil in.
Geared more towards experts, but also suitable for beginners.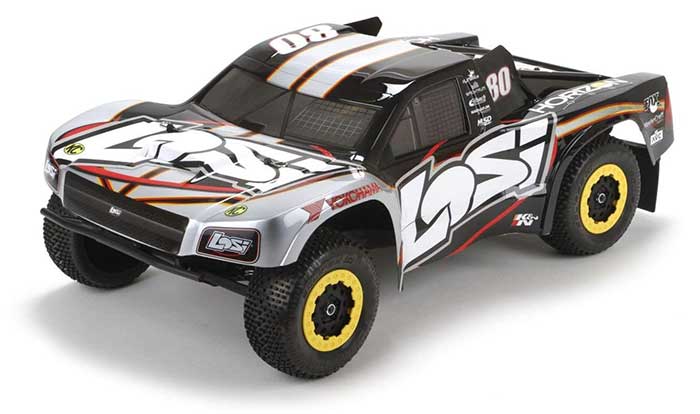 This beautiful beast weighs 4.7 pounds; it comes with a durable brushless motor. Like most of the short course RC trucks, it is also powered by LIPO battery; this battery lasts longer, has high power and is quite lightweight. 
The operating temperatures are kept low with the help of an internally fitted cooling fan, this helps in enhancing the performance and increasing motor life.  
If you are looking for a truck that you can take for bashing and off-roading then Team Losi XXX-SCT is a perfect choice. It is ideal for all terrain; in addition to that, the chassis is quite sturdy and durable bumpers. 
The rings on the tires are realistic-looking; the large sized tires provide a strong grip over complex terrain.
Perfect for both novice and experts.
All of the above mentioned short course RC trucks are good in their own ways, however; the best one amongst all is definitely ECX Torment. 
It is just perfect for all those people who are waiting to enter the world of RC fun. Besides that, it is even ideal for those who want to get back to RC racing after a break.